Welcome New Editor!
Edit
So, you want to edit in the wikia dedicated to the famous Extended Timeline mod? Well, it still needs much information and some help would be appreciated. If you prefer more specific help, contact one of the admins but here below you can see how to make a new country page.
How to make a new country page
Edit
Step one: Making a New Page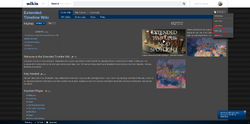 From any page as there is a contribute button that you can press to add a new content, particularly a page.
Step two: Infobox
The info box is the box in the right side of the page with fields of empty information about the country. You should add the country flag image. Specify religion, culture, tech group, government and capital of the country through history. The country rank would be useful too as well as the country development. About the tag, it is only a technical information for modding and is not really required.
Step Three: Setup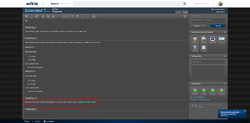 A page usually has different headings. The majority of country pages here have a "General Information" heading that defines when is it playable and some useful links, a "Strategy" heading, self-explanatory, a "Decision" heading that says the unique decisions the country can do as well as country formation ones and the last one is about the Ideas and Traditions the country has. Remember to add categories after having created the page about it being a country (duh) and categorizing in base of tech group, religion, culture and government.
Adding content to pages
Edit
There are many pages that still need information that has been missed by some of the 9 editors. These things mainly include links, strategies and out of date information.
Organizing Pages
Edit
With hundreds of countries added with this mod, the countries page requires a lot of job. The page still needs to be organized by regions, as well as new countries that are being added and removed with updates.
Ad blocker interference detected!
Wikia is a free-to-use site that makes money from advertising. We have a modified experience for viewers using ad blockers

Wikia is not accessible if you've made further modifications. Remove the custom ad blocker rule(s) and the page will load as expected.